S3 and S3V respirators as well as Protex face coverings are  available for despatch now (whilst stocks last). FFP1 and FFP2 ranges are currently unavailable.
MANUFACTURED IN THE UK
colour coded nose bands: FFP1

White

, FFP2

Blue

, FFP3

Green

100% soft cool cotton linings which mould easily to shape of face
designed for low breathing resistance
advanced filtration systems for optimum performance and comfort
comfortable during an 8 hour shift
no metal staples or fittings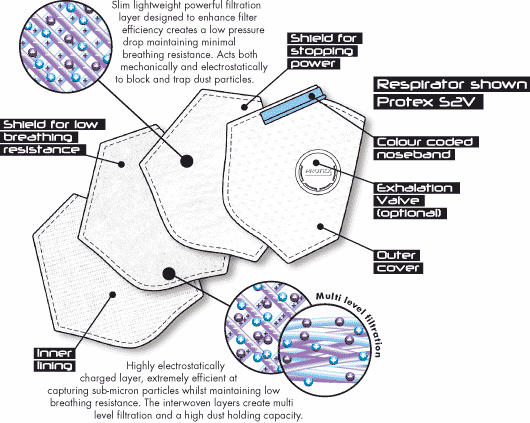 Selecting the right respirator
IDENTIFY the contaminant, its airborne concentration and assess any harmful effects. (Health and Safety Executive Guidance Note EH42).
DETERMINE the Occupational Exposure Limit for the contaminant. (Health and Safety Executive Guidance Note EH40).
ESTABLISH the number of hours exposed to the contaminant.
CALCULATE the 8 hour Time Weighted Average by multiplying the airborne concentration (from 1 above) by the number of hours exposed (from 3 above) divided by 8.
CALCULATE the protection factor required by dividing the 8 hour Time Weighted Average (from 4 above) by the Occupational Exposure Limit (from 2 above) and select a Protex respirator with a greater assigned protection factor.
Further guidance on the calculation is contained in EH40 available from HMSO.
Refer to BS 4275 "Guide to implementing an effective Respiratory Protective Device Programme" which explains how to implement a programme for safe and effective use of respiratory devices.
Click to download a pdf of our guide to selecting the right respirator…